Eastpointe elementary held its second annual grief walk to honor loved ones who have passed away
May 31, 2023
When Bellview Elementary School social worker Debby Threatt planned the school's first Watering our Flowers Celebration of Life Memorial Walk last year, it was in response to the level of anxiety and anger she saw in students when they returned to in-person learning after the COVID-19 pandemic.
She learned that many of the children had lost parents, grandparents, siblings and other close family members and were struggling to process their grief.
"You can't ignore it because you have all of the negative behaviors," said Threatt.  "You can't understand why little Johnny is biting someone or why he is fighting all the time. and you didn't know that he lost his mom."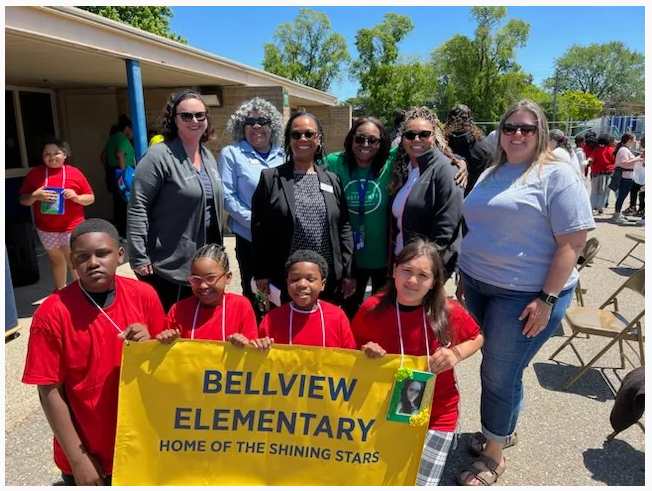 Bellview Elementary School held its second annual grief walk on May 26 to honor loved ones who have passed away. More than 80 children, joined by teachers, parents, school staff, Eastpointe Community Schools Superintendent Christina Gibson, and several elected officials walked one mile around the school with many displaying pictures of their loved ones.
"I will love it when I can tell you we only have 10 kids that have suffered loss or that we are all just walking because we love each other," said Threatt. "But the truth is, this is happening everywhere so it is really important for us to keep this going and to get the community involved."
Prior to the walk, Councilwoman Stacy Cobb-Muniz, Macomb County Commissioner Sarah Lucido, school board member Mary Hall-Rayford, and Gibson all spoke about grief and the difficulty of missing someone and thanked the children for taking the time to remember those who were so important to them. Gibson noted that she was unable to attend last year's walk because she had just lost her mother.
"What a wonderful way to honor our loved ones," said Gibson.
Four Bellview students spoke about their specific losses including Nigel Jones who spoke about his love for his father, who committed suicide. Threatt said Jones just recently learned how his father died.
"Prior to a couple of weeks ago, he had given me this huge, elaborate story that he made up in his head about how his dad died," said Threatt. "I talked to his mom and told her it was up to her what to do, but that he was making up this story because he wants and needs to know what happened to his dad.
"I told her that knowing would help her son grieve and get through this; he would just sit in the hallway and cry."
Threatt said a special needs student kept telling her that he had lost their dad and wanted to be part of the grief walk. Threatt contacted the family and discovered he died in 2020, but said for that child, the loss continued to be very fresh.
"All he knows is that his dad stopped coming home," said Threatt. "It was very powerful and very moving."
Threatt expects the grief walk to become an annual event and would like to see all of the schools in the district get involved, perhaps meeting at one location in Eastpointe and joining together for a larger event.
She recognizes it is difficult for many people to express emotion and that even for adults, there is a stigma that if you express sadness or want to talk about someone you miss that it represents some kind of weakness. In fact, Threatt said, expressing emotion strengthens people.
"Experiencing those emotions is part of the healing process," said Threatt. "If I can get it out, if I can start releasing, I can start building on love, faith, community and loving myself."
By Susan Smiley | Macomb Daily