Holland Public Schools offering public, virtual American Sign Language classes
February 21, 2023
Holland Public Schools is offering an opportunity to learn the basics of American Sign Language in the coming months.
A series of public ASL classes will be held over Zoom from 7-8 p.m. Wednesdays from March 1-May 31. There will be no classes held during spring break or Tulip Time. Classes will be recorded and posted to the Holland Public Schools (HPS) website.
Sessions will alternate between introduction to ASL (101) and an extension of basic ASL (201). In total, six classes will be held for each level.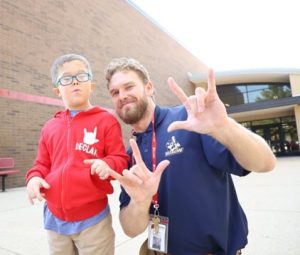 Chase Magsig, an HPS instructional assistant who learned ASL at Gallaudet University, will lead the classes. Gallaudet is the only higher education institution where all programs and services are specifically geared toward deaf and hard of hearing (DHH) students.
"We really want to make it fun, to spark the interest of making them a lifelong learner of ASL," Magsig said. "We're excited and we hope to get other people excited."
Holland hosts center-based deaf and hard of hearing services for students throughout Ottawa County. Students from neighboring districts and as far as Muskegon are brought to HPS for services.
"As a district, we're excited for what we offer here at Holland Public for our DHH kids. We want other people to see this excitement, this passion and this enthusiasm," said teacher Andrea Wiersma. "We see this as an opportunity to allow any parents … teachers, support staff, really anybody to jump on board and learn some basic communication."
The classes will touch on a variety of subjects, including the history and culture of the language, basic skills and the importance of facial expressions and hand movements.
"There's a lot of hidden treasures within the history, the culture, the language itself and how we do things day-by-day," Magsig said.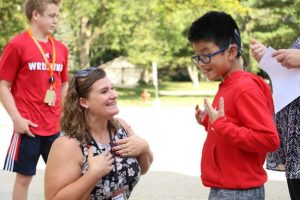 Wiersma and Magsig said there can sometimes be a lack of interaction between DHH students and their peers due to a lack of ASL knowledge and a "fear of the unknown." They hope classes like these can help reduce that fear.
"You don't know how to keep (a conversation) going," Magsig said. "Be comfortable, be yourself. Play with the language, that's how you can develop it and develop a relationship. We're really just breaking through the barrier of fear."
The series will be used as a pilot.
"This is just the beginning," Magsig said. "We're not able to build a bridge in one night. It's going to take some time and we're always looking for ways to make it efficient, fun and to help retain it."
For more information, including registration, visit the HPS website.
By:  Mitchell Boatman  |  The Holland Sentinel
Photos:  Jason Craner, Holland Public Schools