Mt. Pleasant schools to provide free school supplies to all students
July 6, 2023
The 2023-2024 school year may still be months away, but Mt. Pleasant Public Schools (MPPS) families can already check the box for "school supplies."
MPPS will provide free school supplies to all students in the district, including pens, pencils, glue sticks, markers, paper and more so families won't have to buy them ahead of the first bell. The supplies for the upcoming school year, which starts on Aug. 22 for students, are already in classrooms.
Teachers in grades JK-12 purchased supplies for their individual classrooms based on the most common needs of their students.
"Getting students ready for back-to-school can be a busy time for families in our district, so Mt. Pleasant Public Schools is truly pleased we can help families in our community have one less thing to worry about," said MPPS Superintendent Jennifer Verleger.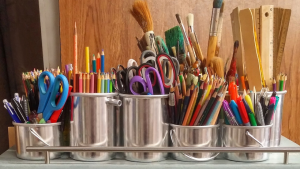 "MPPS is grateful to our generous community for making it possible for us to provide these free school supplies to all students in our district and save them the stress of buying a long list of items before school starts. Our partnership is an example of a village coming together and continuing our commitment to help students learn and succeed in the classroom and beyond."
The free supplies are part of Project AWARE, a collaboration of MPPS with the Saginaw Chippewa Indian Tribe, the Tribal Education Department and Shepherd Public Schools using Substance Abuse and Mental Health Services Administration grant funds. In addition to implementing a trauma-informed school model to serve youth and their families, the funds also allow MPPS to provide school supplies to all district families for the upcoming school year.
By Sarah Wright | The Morning Sun