Port Huron students get new option when missing their bus
April 4, 2023
Port Huron Area Schools middle and high school students who miss their school bus will soon be able to get free rides to school from the Blue Water Area Transportation (BWAT) Commission.
The program is called "Missed the Bus, Just Call Us!" and it aims to help students get to and from school safely for free. The service will be available within the Blue Water Area Transit service area for all school days. The service area covers the city of Port Huron, Fort Gratiot, Port Huron Township and Burtchville Township.
The service aims to help students who have cannot get to school for a number of reasons such as oversleeping, a parent is unable to take them to school or the student missed the bus home due to after-school activities.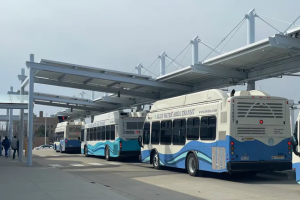 Port Huron high schoolers and middle schoolers will be able to use the service free of charge. The rides are being funded by an anonymous donor, according to Belleau.
Belleau said BWAT is not adding new bus lines for the program. Instead, students who are in need of the service will have to call the dispatch center and they will be instructed to go to the nearest bus stop.
Students can contact the dispatch center at (810) 987-7373 then dial 2.
Belleau said Port Huron Area Schools is the only district within BWAT's service area that will participate in the program.
BWAT dispatches its buses Monday through Saturday. Its main seven fixed routes travel in the city of Port Huron and Fort Gratiot. Additionally, it has a dial-in services for Burtchville Township, Fort Gratiot Township and Port Huron Township.
By McKenna Golat | Port Huron Times Herald