Ypsilanti schools superintendent honored for COVID-19 pandemic response
March 20, 2023
Superintendent Dr. Alena Zachery-Ross was honored for her guidance in helping Ypsilanti Community Schools navigate the COVID-19 pandemic.
Zachery-Ross is one of several community leaders being recognized by Bethel AME Church of Ann Arbor for her outstanding leadership during the pandemic. Others receiving recognition include former Michigan chief medical executive Dr. Joneigh Khaldun, Crystal Campbell, T. Anthony Denton and the Rev. George Waddles.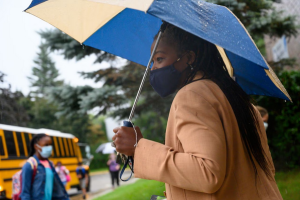 In addition to the presentation of leadership awards, the Bethel Scholarship Ministry will host a benefit concert featuring the Detroit Youth Choir during the event.
Bethel AME noted Zachery-Ross has shown a commitment to education and service to YCS and beyond, remarking that her tireless efforts and expertise helped the school community navigate the complex and challenging realities of the pandemic. The Rev. Mashad A. Evans Sr., Bethel AME pastor, said proceeds generated from the benefit concert will be used to provide scholarships and book awards for deserving students in their post-secondary educational pursuits.
"In addition, the concert will provide an opportunity for Bethel to honor leaders who have provided leadership to our community during the COVID-19 pandemic," Evans said.
Zachery-Ross has been YCS superintendent since 2018.
"I am thankful for this recognition, and I appreciate the historic Bethel AME Church of Ann Arbor parishioners for their ongoing support, commitment to excellence and humanity," Zachery Ross said.
By:  Martin Slagter | mslagter@mlive.com